Greenhouse Complex, Marnie's and the Orangery
Funded by the citizens of Denver through the Better Denver Bond Campaign, the Greenhouse Complex serves as a 'growing' resource. This much needed complex enhances existing programs and creates opportunities for the development of new programs.  
The 50,000 square-foot complex consists of 16,000 square feet of new state-of-the-art greenhouses with flexibility for 12 climate control areas, a renovated Marnie's Pavilion, an Orangery, a public classroom and horticulture department offices.
The greenhouses house our tropical, orchid & bromeliad, cactus & succulent, and aquatic collections. Production and propagation spaces allow for in-house production and growing of plants for displays, research and education. Visible to the public, these greenhouses 
provide visitors a better understanding of all the operations that happen behind the scenes in creating our beautiful and dynamic displays. The addition of a plant tissue culture lab expands our propagation research and production.
As visitors exit the Boettcher Memorial Tropical Conservatory through the west end, they are greeted by the sound of waterfalls and gushing water as they transition into the renovated Marnie's Pavilion. A two story display housing orchids, bromeliads, ferns and aquatic plants in rock crevices with water meandering around are the focal point. Educational programming throughout will provide information about tropical ecosystems, their diversity, functions and importance.
The Orangery is a beautiful transitional space betw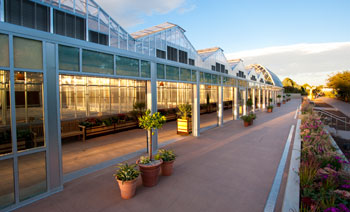 een the greenhouses and the outdoor gardens, reminiscent of traditional European Renaissance garden displays. With citrus trees and other seasonal colorful plants, this space consists of roll-up doors that will remain open during seasonable weather, spilling the plant displays outside into the terrace. The entire complex is enhanced by aesthetic landscaping around the terrace and entry into the complex.
Be sure to walk through the Boettcher Memorial Tropical Conservatory before or after you visit the Greenhouse Complex. The Boettcher Memorial Conservatory contains one of the most unique and compelling displays of tropical plants featuring thousands of exotic specimens from the tropical and sub-tropical regions of the world. Various food plants add special interest, including bananas (Musa spp.), chocolate (Theobroma cacao) and coffee (Coffea arabica). Our two-story model of a banyan tree gives visitors an aerial view of the tropical forest. It's a fact: The tropical rainforests of the world inhabit less than 6% of total land cover but account for over 50% of the world's plant and animal species.