16th Street Mall Garden Block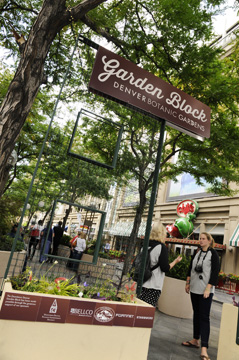 The new 16th Street Mall Garden Block (between Curtis and Champa streets) is a catalytic project for the revitalization and continued success of Denver's premiere public space. As a partnership between the Downtown Denver Business Improvement District and Denver Botanic Gardens, the Garden Block creates a unique destination on the Mall and for all of downtown Denver.
The project creates a dynamic experience in a very urban space through the use of planters displaying a variety of themed landscapes, rotating annual and seasonal displays, as well as programming throughout the year.
Summer 2014 highlights included: a farm stand the last two Fridays of each month, featuring produce grown at Denver Botanic Gardens at Chatfield; and the Garden Block Showcase was Wednesdays starting at 11:30 a.m., June through September, highlighting various SCFD organizations with live performances.
Garden Block resident Rialto Café is offering Denver Botanic Gardens members 10% discount on food and beverage when they show their membership card.
PRESENTING SPONSORS