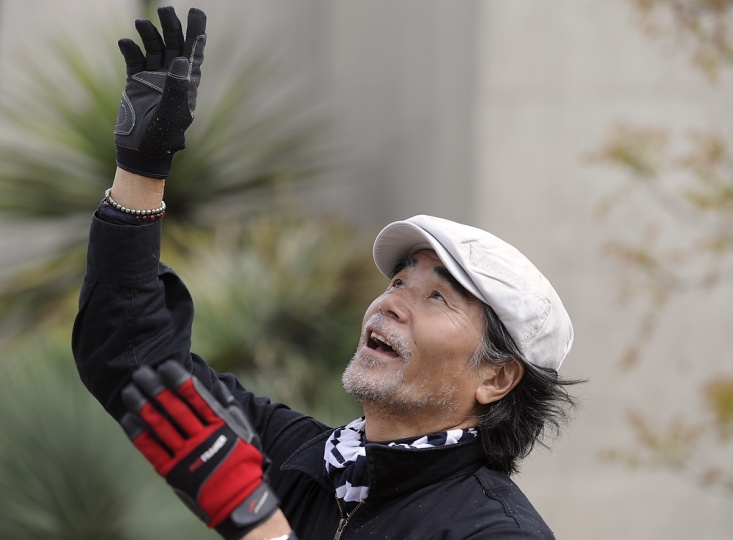 Tetsunori Kawana is a contemporary Japanese installation artist and ikebana (Japanese flower arranging) master. His bamboo installations have been exhibited internationally at institutions including the New York Botanical Gardens, the Moscow National Museum of Russian Fine Art, the 1996 Arte Sella Biennale (Italy), and the National Gallery of Victoria in Australia. 
Kawana has long held natural materials close to the heart of his artistic practice. A student of Hiroshi Teshigahara, third headmaster of the progressive Sogetsu School of Ikebana, Kawana's background in living materials and responsiveness to the rhythms of nature lent itself to sculpture with similar sensibilities. Kawana translates the philosophy of ikebana into architecturally-sized bamboo sculptures and installations emphasizing the beauty, strength and flexibility of the medium. With acute sensitivity to both the drama and subtlety of nature, he transforms poles of bamboo into breathtaking structures of energy and power. His works not only engage an individual's five senses, but also harness the principles of godai, the Japanese philosophy of five elements: Earth, Fire, Wind, Water and Void (sky). 
Kawana works in green bamboo, which he splits, bends and manipulates into surprising forms that are individually designed for each site. As seasons shift and the bamboo begins to dry, his installations gradually change shade and color, in conversation with the changing character of the landscape.
Kawana's sculptures invite investigation into the ambiguity between the human-made and the natural, whether it's dynamic, flowing forms framed by the architectural structures of cityscapes, or fastidious, angular structures reflected in the ripples of a pool. Kawana's process of creation is itself testimony to that tension, with large pieces requiring days of labor and scores of assistants to create the kind of forms that nature produces seemingly without effort.