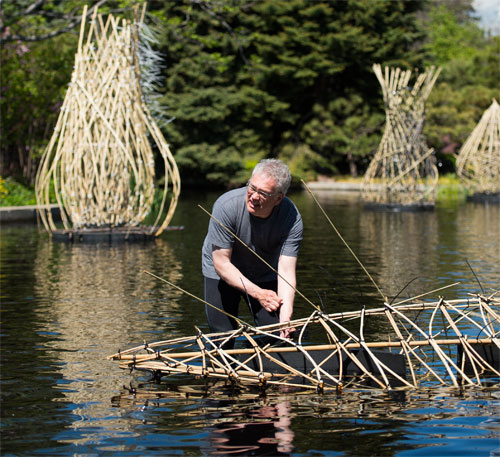 Stephen Talasnik is a critically-acclaimed draftsman, sculptor, and installation artist whose work reflects a conversation between fine art and architecture. Featured in the New York Times and in Sculpture magazine, Talasnik has exhibited internationally at institutions including Storm King Art Center (NY), Staatliche Museen zu Berlin (Germany), and the Queens Museum of Art (NY). His work is held in the permanent collections of institutions throughout the world, with notable collections including the National Gallery of Art in Washington, D.C.; the Metropolitan Museum (NY); the British Museum in London; the Smithsonian Museum of American Art in Washington, D.C.; and the Art Institute of Chicago.
A graduate of the famed Rhode Island School of Design, Talasnik spent several years teaching in Tokyo and studying architecture before moving to New York in 1991. Talasnik draws on many influences, ranging from 1960s futurism to urban planning and visionary architecture. Also present in his work are the fluid forms of nature and the exacting skill of both Piranesi and Brunelleschi. Talasnik's brief interest in a career in architecture is still evident in the precision of his sculpture, but he found his true calling in fine art. He began his artistic career in drawing, a practice which remains central to his art production. In his renderings he presents invented spaces featuring complicated, fantastic forms of exposed beams and girders.          
In 2000 Talasnik began producing both large- and small-scale bamboo sculptures of the same complex, visionary structures that seem to hang weightless in his drawings. Forms meander like rivers or appear to float in space. After an intense design process, Talasnik uses hundreds of bamboo poles to construct large, site-specific structurally-transparent sculptures.