Top 5 picks for your visit
2015 Summer Concert Series
June - Aug.
York Street and Chatfield
Bulb Pre-Orders
Place your bulb order by June 22
Online or at the Shop at the Gardens
Literature of the Land Book Club
Apr. 22 or 23, 7-8:30 p.m.
York Street
Film: "Arise"
Wednesday, Apr. 22, 6:30-8:30 p.m.
York Street
Summer Seedlings for Young Children
May through Aug. - Ages 18-24 mos., 24-36 mos. and 3-6 years old
York Street
plant of the week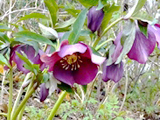 Helleborus x hybridus (Lenten Rose): A veritable revolution is occurring among the hellebores—brilliant yellow, soft pink and nearly black flowered cultivars are taking center stage. But the dark purple forms will always be around—especially in Colorado where they make almost indestructible specimens for shady or part shady corners. Once established, these are amazingly drought tolerant as well. The glossy, nearly evergreen foliage is a plus.
Enjoy our April walking tour: Alpines