Top 5 picks for your visit
Orchid Showcase
Jan. 9 - Feb. 23, 9 a.m. - 5 p.m.
York Street
Evening Vinyasa Yoga at the Gardens
Wednesdays through March, 6-7 p.m.
York Street
Seedlings for Young Children
Through April - Ages 18-24 mos., 24-36 mos. and 3-6 years old
York Street
Garden Myths and Secrets
Thursday, Feb. 5, 6-7:30 p.m. 
York Street
Dig into Nature with Digger
Winter wonders for kids and families
Enjoy these activities at the Gardens or at home!
plant of the week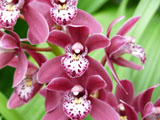 Cymbidium orchids have been cultivated for millennia – since the time of Confucius. Cymbidium species occur from India to Japan in the northern hemisphere to Australia in the southern hemisphere. Over the past century, thousands of hybrids have been developed and they have become popular corsage flowers.
Enjoy our February walking tour: Greenhouses and the Orangery