Top 5 picks for your visit
2014 Summer Concert Series
June through September
York Street and Chatfield
Bonfils-Stanton Series - "Celebration of the Seasons: An Unexpected Performance"
May through October
York Street and Chatfield
Spring Plant Sale
Friday & Saturday, May 9 & 10, 8 a.m. - 5 p.m. both days
York Street
Farm Camps at Chatfield
June and July
Chatfield | Children (ages 6-12)
Volunteer with Butterflies at Chatfield
colorado gets official state cactus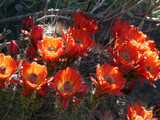 Denver Botanic Gardens' horticulture, research and interpretation departments assisted the Girl Scouts with their selection of Colorado's new state cactus. The Claret Cup Cactus is part of the Gardens' collection and is planted throughout the grounds, with the largest concentration in the Dryland Mesa garden. Pictured at left is Echinocereus triglochidiatus var. melanacanthus, which blooms in May or June.