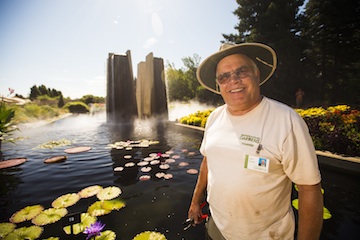 Denver Botanic Gardens' Adult Volunteer Program is composed of a diverse group of individuals who are connected through a passion for sharing a love of plants and the natural world. Whether helping maintain our display beds, leading children through educational activities, or greeting visitors, volunteers support almost every area of the Gardens' operations. Volunteer opportunities are available at both our York Street and Chatfield locations (opportunities vary based on location).
We accept volunteers all year long and new volunteer orientation takes place at least once a month. 
Requirements for joining the Adult Volunteer Program:
- Be at least 18 years of age (for Teen and Family Volunteer programs, click here)
- Submit a volunteer program application
- Attend New Volunteer orientation
- Complete an interview
- Complete a background check form
- Pay a fee of $50 for uniform, badge and background check (scholarships available)
- Become a member and/or maintain an active Gardens membership
- Attend two Volunteer Summits annually
Adult Volunteer Program Benefits:
- Invitations to annual volunteer recognition events
- Opportunity to attend special lectures, educational, and social events
- Discounts on Gardens' membership and much more!
To join our Ongoing Volunteer program, fill out our online volunteer program application. Once your application is received, you will be contacted with available orientation dates. If you have any questions, please email vol@botanicgardens.org or call 720-865-3609. We are an equal opportunity volunteer program. 
Adult Volunteer Program Opportunities
Please note that some programs may not be currently placing new volunteers. However, we will place you on a wait list and contact you when positions become available.
Visitor Experience
Gardens Docent Program: Provide educational and interpretative experiences for Gardens visitors and in the community primarily through guided tours, but also through other on site interactions, including staffing a Learning Station or serving as a roving or stationary docent. Gardens Docents must complete 20 hours of volunteer service and make a two year commitment to the program prior to entering training in the fall. Training for Gardens Docent program is a six month commitment, starts every September and covers Gardens history, architecture, conservation efforts, as well as artistic and horticultural information.
Gardens Ambassador Program: Ensure a welcoming and positive atmosphere at the Gardens. Ambassadors provide visitors with accurate information and engage them in conversations relevant to the Gardens which makes the visitor experience a memorable one.
Gift Shop Volunteers: These volunteers work directly with staff to assist with duties such as ticketing merchandise, gift wrapping during the holidays, greeting shoppers and keeping the Shop at the Gardens tidy.

Children's Education Programs
Mordecai Children's Garden Exploration Leaders: Facilitate educational activities and projects within the Children's Garden that introduce the wonders of nature to visitors and extend the learning and discovery opportunities for families as they explore the Gardens.
School Tour Guides: Work with small groups of children (typically 12 or fewer), leading them through the program activities and facilitating the process of discovery. Guide children through one or many of five fun programs, each with a different curriculum created for a specific age group.

Continuing Education Programs
Teaching Assistant (TA): Vital to the successful operation of the Gardens' adult education programs, lecture series, joint programs and symposia. Duties include checking in participants on the class list, registering any walk-ins, helping teacher set  up classroom and AV equipment as needed.
Helen Fowler Library: Assist patrons with reference inquiries and locating library materials, circulation services and shelving using the Library of Congress classification system.

Horticulture Programs:
Garden Maintenance: Help keep our display beds beautiful!  Work directly with Gardens' horticulture staff members in with tasks such as weeding, dead heading, soil preparation, pruning, planting and answering visitor questions. A weekly commitment is required throughout the growing season (April/May through Oct/Nov).
Integrated Pest Management: Explore assigned gardens, closely examining plants for signs and symptoms of pests and diseases and identifying and collecting pests.

Therapeutic Horticulture
Summer Sensory Program: Lead group of older adults and/or those with disabilities through the Sensory Garden, and also facilitate plant-based therapeutic activities with these visitors. The Sensory Garden, designed to be experienced with all five senses, is a unique garden for people of all ages and abilities. During each program, volunteers utilize plants to engage the senses and provide social enrichment.
Winter Green Program: This programs take place off-site and sometimes on-site from November through April. During these program sessions, volunteers utilize plants and plant-based activities to engage the senses and provide social enrichment to groups of older adults and/or those with disabilities.

Research and Conservation
Sam Mitchel Herbarium of Fungi: Supplement the everyday workflow that occurs within the collection. Duties include processing specimens (pasting labels on boxes, writing labels, writing accession numbers, barcoding specimens), helping staff curate the collections, and special projects as assigned. A weekly commitment is required for at least one year.
Kathryn Kalmbach Herbarium of Vascular Plants: Work with the Gardens' vascular plant collection and be exposed to the diversity of our regional flora, worldwide species and cultivated varieties. Volunteers assist with processing imaging, repairing, and georeferencing specimens, as well as data entry and filing. A weekly commitment is required for at least one year.
Rare Plant Monitors: Stewards will increase the number of rare plants populations being monitored by the Colorado Natural Areas Program (CNAP) and Denver Botanic Gardens without an increase to staff or financial resources to those organizations. Stewards have basic plant identification skills and an ability to perform field work in a variety of potentially harsh environments.

Denver Botanic Gardens at Chatfield
Butterfly House Volunteer: Help create great visitor experiences in Denver Botanic Gardens at Chatfield's newest seasonal exhibit: Butterflies at Chatfield. Volunteers will greet visitors, answer questions and provide basic interpretation of plants and butterflies. All volunteers will attend a special training session and no prior plant and insect knowledge is required. The exhibit will be open annually, May – October.
Information Specialist: Volunteers provide a warm welcome, courteous service and an educational and interpretative experience for visitors throughout the many areas of the Gardens' Chatfield site by sharing the history of the Gardens, horticultural and wildlife-related information.
Community Supported Agriculture (CSA) Assistant: A great way to participate first hand in the farm to table movement! CSA Volunteers assist with a variety of gardening activities including planting, weeding, harvesting, washing, and distribution related to the vegetable garden and cutting garden.
For questions about any of our programs, please contact the Volunteer Services department by emailing vol@botanicgardens.org or calling 720-865-3609.