What Type of Member Do You Want to Be?
Denver Botanic Gardens is committed to expanding our members' understanding of all the exciting things that go on throughout the year. There's always something happening at the Gardens, so drop by and explore your options!
Families:
Mordecai Children's Garden is open March through November. In addition to providing a fantastic play space for kids, we offer Family Nights, kids' garden camps, self-guided discovery tours and Seedlings classes throughout the year.
Creative Types:
Attend an artist talk and find out more about the inspiration behind our exhibits. Our indoor gallery displays change throughout the year, so there is always something new to see. Become a botanical illustrator or take your photography to the next level through our classes. Are you a music lover? Members receive advance ticketing and reduced rates for our popular Summer Concert Series.
Green Thumbs & Foodies: 
Our year-round native plant displays are a great source of inspiration. Come to our Spring Plant Sale or Fall Plant and Bulb Sale and bring home a little bit of the Gardens for your own backyard. Stop by our library and speak to a master gardener, or get cooking by joining our Community Supporting Agriculture program to receive fresh produce grown at our Chatfield location.
Of Scientific Interest: 
Satisfy your curiosity by visiting the Kalmbach Herbarium with its collection of over 49,000 plant specimens or "re-search" the Gardens by joining our Research and Conservation team on a scientist-led nature hike for an in-depth look at the work we do to document and protect Colorado's natural heritage.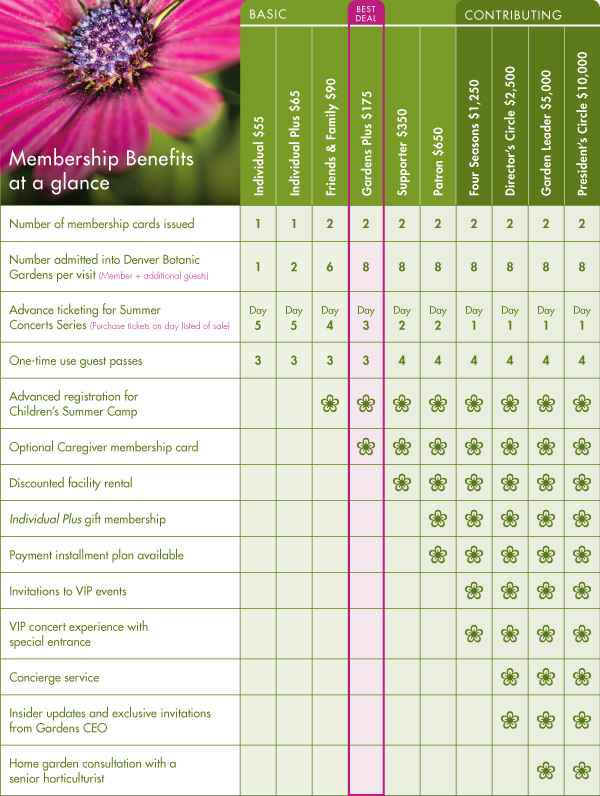 If you have any questions or would like to sign up by phone, contact the Membership Department at
720-865-3525. Email the Membership Department with questions and address changes (including email address changes).
Membership fees are nonrefundable and nontransferable.