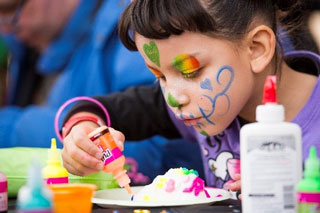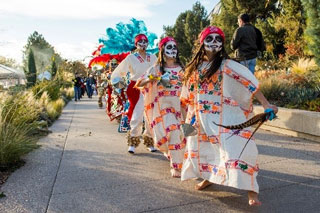 Día de los Muertos (Day of the Dead) is a traditional Mexican celebration that is a joyful remembrance in which death is recognized as a natural part of the cycle of life. More than 500 years ago, when the Conquistadors came to what we know as Mexico, they stumbled upon the Aztec Indians practicing a ritual that seemed to mock death. For more than 3,000 years, the indigenous people had been practicing the tradition of celebrating life after death.
The Spaniards wanted to make this ritual more Christian, so they moved the dates so that it would coincide with All Saints' Day and All Souls' Day (Nov. 1 and 2) which is believed when the spirit of the dead visit their families.
Today, Dia de los Muertos is celebrated in Mexico and certain parts of Central and North America. On this day people create altars in their homes, they clean and decorate the gravesites of lost loved ones and prepare special foods. They attend mass, and come together to sing, dance and eat, which is a way of remembering those who have left this earth. The belief is that they are never forgotten and therefore, truly will never die.
Bring your friends and family to celebrate with the Gardens! Dia de los Muertos costumes are encouraged.
Date:
Sunday, November 1, 2015
Time:
9 a.m. - 5 p.m.
Admission:
Members: Free
Adults: $12.50
Seniors (65 and over): $9.50
Students with a valid ID: $9
Children 3-15: $9
Children 2 and under: Free
Entertainment: Check back for the full list of entertainers.
Art & Activities:
Children's crafts: 10

a.m. – 4 p.m.

Community altar exhibitio

n

Face painting: 10 a.m. – 3 p.m. (additional fee)
The Mercado: 9 a.m. – 5 p.m.
Artist vendors from Colorado will be at the event to share their Día de los Muertos original art pieces, prints, folk art, jewelry, t-shirt designs and more. Most of these items will be available for purchase. Here is the craft vendor application.
Food Vendors: 9 a.m. – 5 p.m.
Here is the the food vendor application.
Altar Showcase: One of the most important aspects of Día de los Muertos is the creation of the altar for the departed, known as an ofrenda. The festival will showcase an open-air exhibition of community altars. If you are interested in making an altar for the showcase, please download and complete an application in English or Spanish and email to Yvonne.Garcia@botanicgardens.org by Sept. 25. There is no charge to participate in the Altar Showcase. Altars will be displayed Monday, Oct. 12 – Monday, Nov. 2.
For information about becoming a sponsor for this event, please email specialevents@botanicgardens.org.