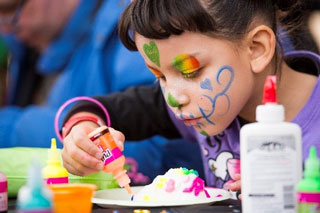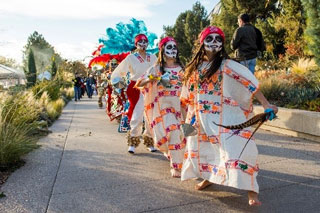 Día de los Muertos (Day of the Dead) is a traditional Mexican celebration that is a joyful remembrance in which death is recognized as a natural part of the cycle of life. More than 500 years ago, when the Conquistadors came to what we know as Mexico, they stumbled upon the Aztec Indians practicing a ritual that seemed to mock death. For more than 3,000 years, the indigenous people had been practicing the tradition of celebrating life after death. The Spaniards wanted to make this ritual more Christian, so they moved the dates so that it would coincide with All Saints' Day and All Souls' Day (Nov. 1 and 2) which is believed when the spirit of the dead visit their families.
On this day, in Mexico, families make altars and place ofrendas (offerings) of food such as pan de muertos baked in shapes of skulls, papel picado, candles, incense, yellow marigolds known as cempazuchitl (also spelled zempasuchil) and, most importantly, a photo of the departed soul is placed on the altar.
Bring your friends and family to celebrate with the Gardens! Día de los Muertos costumes are encouraged.
Date:
Saturday, November 1, 2014
Time:
9 a.m. - 2 p.m.
Admission:
$15 Adult
$9 Child ages 3-12
   (Event tickets include general admission to the Gardens)
Free for members
Schedule:
9 a.m. - 2 p.m.: Traditional Día de los Muertos activities and crafts (WHILE SUPPLIES LAST)
9 a.m. - 2 p.m.: Various craft vendors
9 a.m. - 1:30 p.m.: $5 face painting
11:30 a.m. and 2 p.m.: Procession led by La Danza Guadalupana Matachina
No ATM on location.
For more information about this event, please email specialevents@botanicgardens.org