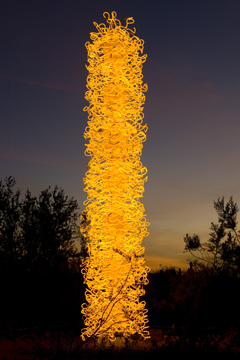 Experience Chihuly at night! Chihuly Nights take place in October and November to take advantage of fall's early sunset. Sculptures will be illuminated for a unique nighttime perspective. Even if you have visited the Chihuly exhibition during the day, you will not want to miss this magical experience.
The artworks are illuminated every night so you may visit any evening, but the experience will be different June – September since full darkness doesn't come until late evening.
Dates:
Nightly, October 3 – November 30, 2014
(Closed November 1, 8, 13, 14, 15 and 27)
Time:
5:30-8 p.m. 
Admission:
$10 member, $15 non-member
Tickets only available online.
For purchases of 15 or more tickets, please call 720-865-3691.
Every member household has the opportunity to reserve two complimentary tickets. IMPORTANT: You will not receive tickets in the mail. Complimentary tickets must be reserved online, in advance. Due to the popularity of Chihuly Nights, you must visit on the date selected. No refunds or exchanges are issued. Capacity is limited and this event will sell out in advance. Print and bring tickets when visiting.

This is a separately ticketed event and not included with daytime general admission.

The Hive Garden Bistro (weather permitting) and Offshoots are open nightly.