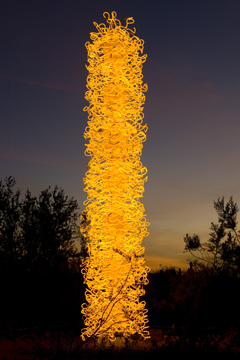 Experience Chihuly at night! Chihuly Nights take place in October and November to take advantage of fall's early sunset. Artwork will be illuminated for a unique nighttime perspective. Even if you have visited the Chihuly exhibition during the day, you will not want to miss this magical experience.
Dates:
Nightly, October 3 – November 30, 2014
(Closed November 1, 8, 13, 14, 15 and 27)
Time:
5:30-8 p.m. 
Admission:
$10 member, $15 non-member
Tickets only available online.
For purchases of 15 or more tickets, please call 720-865-3691. Please note: There is no discount for group ticket purchases.
This is a separately ticketed event and not included with daytime general admission.
Every member household has the opportunity to reserve two complimentary tickets. IMPORTANT: You will not receive tickets in the mail. Complimentary tickets must be reserved online, in advance. Due to the popularity of Chihuly Nights, you must visit on the date selected. No refunds or exchanges are issued. Capacity is limited and this event will sell out in advance. Print and bring tickets when visiting.

If you are a member and have difficulty ordering online tickets, contact the Membership Department at 720-865-3525. We are expecting a high volume of calls, so we will return your call as soon as possible. Or email the Membership Department with questions and member address changes (including member email address changes).
PARKING: The parking structure located across from the Gardens' main entrance offers free but limited parking spaces. If our parking lot is full, free parking is often available in Congress Park, accessed from Josephine St. near 9th Ave. PLEASE NOTE: During Chihuly Nights, street parking will be restricted 5-9 p.m. in many areas around the Gardens. Pay attention to city parking signs. Here is a map showing residential streets where a parking permit is needed. Denver Botanic Gardens is not responsible for parking tickets. Arrive with plenty of time to find parking. We encourage carpooling and public transportation.
INCLEMENT WEATHER: Special events are rain, snow or shine. Please come prepared—the majority of Chihuly Nights takes place outdoors.
The Hive Garden Bistro (weather permitting) and Offshoots are open nightly.