Winter blooms with a million glittering lights at Denver Botanic Gardens and Denver Botanic Gardens at Chatfield.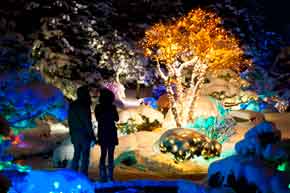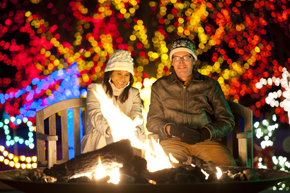 Visit Blossoms of Light at York Street to see sparkling passages, brand new displays, romantic mistletoe kissing spots and more.

Nov. 29, 2013 – Jan. 1, 2014
5:30 - 9 p.m.
Nightly at 10th & York Street

See info on Blossoms of Light, including free seasonal entertainment schedule

Trail of Lights at Chatfield brings you over a trail glistening with lights that illuminate a winding path through the Colorado countryside. 

Opening weekend: Nov. 28-30, 2014
Open nightly Dec. 5 2014 - Jan. 1, 2015
Nov. 29, 2013 – Jan. 1, 2014
5:30 - 9 p.m.
Wadsworth Blvd. & C-470

See info on Trail of Lights, including the free hayride schedule
Members receive two complimentary tickets to each event. Members received their tickets in the mail.