Chatfield Facility Rentals
Denver Botanic Gardens at Chatfield provides visitors with a Colorado setting just minutes from the city. Whether the occasion is a large and lavish wedding, an anniversary dinner, a corporate event or a family reunion, we offer a variety of indoor facilities and outdoor sites within the 750 acres to meet the needs of large and small groups.
RENTAL SITES  |  WEDDING PACKAGES  |  RATES  |  REGULATIONS  |  PRIVATE HAYRIDES
Weddings
Denver Botanic Gardens at Chatfield provides an outdoor, rustic feeling for a beautiful Colorado wedding. The beautiful natural outdoor settings are complete with Deer Creek Canyon and the foothills as the backdrop. The indoor rental facilities are historic buildings, providing classic reception opportunities.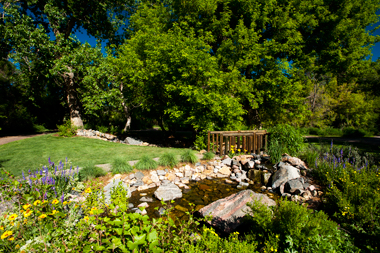 Corporate Meetings & Events
Denver Botanic Gardens at Chatfield provides guests with a feeling of getting away from city life and returning to a simpler time. Call us for meetings, picnics or other special events.
Outdoor Events
There are ample grassy areas for large events and endless possibilities to complete your function, including chuck wagon dinners, barn dances, hayrides, fly fishing demos, petting zoo, pony rides, cookouts, etc.
Corn Maze
Get lost in our gigantic Corn Maze, one of the most attended mazes in the country. This year's maze will include so many twists and turns that it will be the most challenging maze yet! Private rentals are available Monday through Thursday in Sept. and Oct. The Corn Maze is an ideal outing for corporate events, scout and school groups, birthdays and other large functions.
Trail of Lights
Looking for a rustic Colorado holiday party location? Now add one million twinkling lights and a sleigh ride all within minutes of the city. This year Chatfield will host the Trail of Lights with incredible lights illuminating the beauty of a charming forest path throughout the Hildebrand and Green Family farmsteads. Holiday parties can be booked any night of the week. Use our Green Farm Barn or the beautiful Polly Steele Nature Center.
Included in your facility rental:
Space and privacy
Limited furniture and set-up
An on-site coordinator who will be present throughout the duration of your event
Free admission for your guests. Denver Botanic Gardens at Chatfield reserves the right to assess a per person fee charge to your Facility Rental for any special event or traveling exhibit during the time of your Facility Rental, including but not limited to the Corn Maze, Pumpkin Festival and Trail of Lights.
Free parking for your guests
Contact information 
For availability or for scheduling a site visit, contact the Facility Rental Office at 720-865-4339 or via email at chatfieldrentals@botanicgardens.org.
Photography
If you are interested in taking wedding photography at Denver Botanic Gardens at Chatfield, please call 720-865-4339 to schedule a time. If you are interested in using Denver Botanic Gardens at Chatfield in a commercial photo shoot, you may read general information and download our photo policy here.