Kids and Families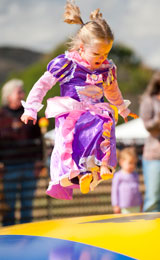 Jumping Pillow - Also open after dark! One ticket gets you 5 minutes of jumping.
$3 for one ticket
$8 for three tickets
$13 for five tickets 
Also Includes:
Hay rides and pony rides $5, noon - 5 p.m. on Saturdays and Sundays
Barrel Train Rides, Fridays from 4-9 p.m.
Life-sized spider web jungle gym
We have Maze Trivia again! Choose between corn-themed or Halloween-themed questions.
Picnic tables are available if you bring your own food (first-come, first-serve).
Please pick up your children promptly at closing time each evening.
Once you have conquered the Corn Maze, explore the tree house and water feature in Deer Creek Discovery, check out the wildlife observation area and visit our barnyard friends.