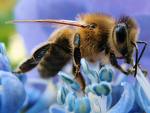 Urban beekeeping has been all the buzz, lately.  And for as many people that keep bees, there are that many reasons WHY people keep bees.
One of the most important reasons to keep bees is for pollination.  Bee pollination is needed for the production of an estimated one-third of the food crops grown in developed countries. When it comes to fruit, the number of bees visiting a plant affects the size, uniformity and amount of fruit it produces. Bee pollination also has an impact on other foods we eat, such as meat, since the animals we consume often eat plants pollinated by bees.
It's common knowledge that the honey bee produces honey, but did you know that they also provide us with wax, pollen, royal jelly, propolis and venom? These by-products have different uses but are all considered beneficial to our health. "Apitherapy" means the use of honeybee products for medicinal purposes.
Urban beekeeping is essential as the commercial beekeepers have sustained huge losses all over the country year after year. As urban beekeepers we can practices sans medications and chemicals. We can provide diversity-rich habits as well as encourage those around us to reduce and or eliminate the use of pesticides. Beekeeping is a very civic hobby!  But beyond that, it's a lot of fun, challenging and rewarding.
If you've ever thought about keeping bees in your backyard (or community garden space), join Marygael at the Gardens for her three class series, Beekeeping Essentials.  The Gardens will be offering the class twice due to its popularity – Feb 9, 16 & 23 and March 15, 22 & 29.  Be sure to register early!
Guest Blogger: Marygael Meister