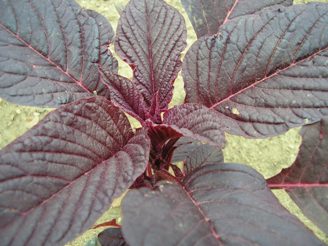 I have been asked two questions repeatedly this week. The first by visitors to the Sacred Earth garden: "What is the red plant?" The second by people eating lunch with me: "Why is your lunch bright pink?
The answer to both is the same: Amaranth (Amaranthus cruentus).
Amaranth, like all of the plants in the cultivated area of Sacred Earth, is grown by Native Americans from the Four Corners region. It is an annual that self seeds into the garden each year; extras are removed in June as the plants can each reach six feet in height and two to three feet in width and there are always hundreds of seedlings.
The plant has been cultivated for for over 5000 years for food amongst other things. In the interests of research I collected the seeds last autumn; these, according to internet sources, can be cooked and used like quinoa or couscous, or they can be popped to create miniature popcorn. I followed varying instructions to cook it but each time ended with an inedible mass of gritty goo.
This spring I went for the option of eating the young leaves. I treated them like spinach and made a stir-fry with tofu and some other greens. It worked really well; the only thing I was not expecting was the color: the tofu looked like it had been marinated in beet juice. I also added uncooked leaves to salads for a slightly less psychedelic color experience.
With the current focus on eating locally sourced foods, plants that work as both food and ornamentals are in high demand. Amaranth is very self sufficient and uses relatively little water. It is a little assertive but if you let the seedlings get big enough to eat the weeding suddenly becomes harvesting, which is somehow much more fun.