Come join us for the first concert of the year at York Street!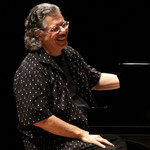 Chick Corea Freedom Band
w/ Kenny Garrett, Christian McBride & Roy Haynes
Monday, June 14
Tickets still available at our Bonfils-Stanton Visitor Center Will Call starting at 4 p.m.
Doors at 6, Concert at 7
$57 Members—$62 Non-Members
Check out a video of him performing at the Blue Note in Tokyo.
And enjoy more Chick Corea here!
I have seen him perform many times, and each concert has taken me on an incredible musical journey. The Gardens York Street amphitheater is the perfect venue for this true legend of jazz.
From his bio:
An NEA Jazz Master, 16-time Grammy winner and keyboard virtuoso, Chick Corea, brings his all-star quartet to the Gardens. "The Freedom Band is a meeting of free spirits in music," says Chick. "The art and practice of improvisation will be our platform."
From straight ahead to avant-garde, bebop to fusion, children's songs to chamber music, along with some far-reaching forays into symphonic works, Chick has touched an astonishing number of musical bases in his illustrious career while maintaining a standard of excellence that is awe-inspiring. A tirelessly creative spirit, Chick continues to forge ahead, continually reinventing himself in the process.
Innovator and Pioneer
Since embarking on a solo career in 1966, Chick has been at the forefront of jazz, both as a renowned pianist forging new ground with his acoustic jazz bands and as an innovative electric keyboardist with Return to Forever and the Elektric Band. His extensive discography boasts numerous essential albums, beginning with his 1968 classic, Now He Sings, Now He Sobs.
Recent Activity
Chick continues to make a significant impact on the scene, as evidenced by 2007's Grammy-winning The Enchantment (duets with banjo virtuoso Bela Fleck), 2008's The New Crystal Silence (duets with longstanding collaborator Gary Burton), 2009's Returns (documenting Return To Forever's 2008 reunion tour) and 2009's Grammy-winning Five Peace Band Live (with John McLaughlin, Christian McBride, Kenny Garrett and Vinnie Colaiuta).
This Summer
Chick premieres the Freedom Band on extended tours of the U.S. and Europe. Chick's new all-star quartet features alto saxophonist Kenny Garrett, bassist Christian McBride, and legendary drummer Roy Haynes, who turns 85 this year. McBride and Garrett have both previously played in Chick's Remembering Bud Powell group and the Five Peace Band. Haynes was also a member of Remembering Bud Powell and played on Chick's landmark 1968 recording, Now He Sings, Now He Sobs. Corea is writing new music for this group. "The Freedom Band is a meeting of free spirits in music," says Chick. "The art and practice of improvisation will be our platform. The quartet will be celebrating freedom of expression and freedom to make music the way we feel at the moment. This is our definition of 'freedom.' "