For decades the United States has operated through large industries that provide our nation with almost everything in our lives. Some of the most prominent industries are the grocers that operate supermarkets across the country, which are full of enough food for everyone, in every neighborhood. While we are very fortunate to have access to such high volumes and varieties of food, the convenience of such a massive industry does not exist without consequences.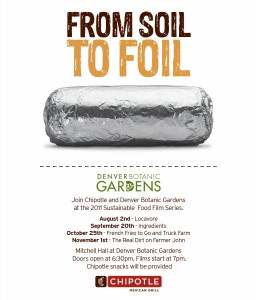 Recently the demand for more sustainable agriculture has risen and organizations such as Food Alliance and Protected Harvest have begun to provide measurement standards for what constitutes as a sustainable crop. Farmers markets are also gaining popularity as people are realizing the true meaning of the word "fresh."  Aside from the fact that locally grown food just plain tastes better, it is also fresher, more nutritious and protects us from contamination. Today the average conventionally grown vegetable travels more than 1,500 miles and is in cold-storage for days - or weeks - before it reaches the consumer's refrigerator, causing not only a lack in freshness, taste and nutrition, but exposure to many harmful elements. Produce from a local farmer's market has often been picked within 24 hours of your purchase by a local farmer, and then sold personally to the consumer.
In efforts to promote awareness of the importance of sustainable foods, Denver Botanic Gardens, in partnership with Chipotle, presents the Sustainable Food Film Series; four films that will bring you to the reality of farming, local diets and that will walk you through the lives of individuals who are making strides towards a better world. These films are sure to invoke thought about the future of food and inspire you to bring health back to the community.
Sample Chipotle complimentary appetizers before each film and enjoy a community discussion of local farmer projects after the screening!
The films include:
Locavore
Tuesday, August 2 - 7:00 p.m.
FREE; $10 suggested donation
Featuring some of the neo-pioneers of the local diet movement, Locavore is an inspiring documentary about the inevitable return to the local diet and is intended to bring awareness to this movement.
Ingredients
Tuesday, September 20 – 7:00 p.m.
FREE; $10 suggested donation
Ingredients focuses on how people around the country are working to revitalize the connection between farmers and chefs who work together to create great tasting food as well as increase awareness of the possibility of a truly sustainable food system.
Truck Farm and French Fries to Go
Tuesday, October 25 – 7:00 p.m.
FREE; $10 suggested donation
Truck Farm is a fun, musical documentary that follows filmmaker (Ian Cheney) on his journey through New York City's urban agriculture. Cheney tests the boundaries of what sustainable food is possible in our nation's urban environments as well as the garden he plants in the back of his Dodge truck.
French Fries to Go is an award winning film that documents the origins of Telluride's Biodiesel project. This film is all Telluride and was developed to educate viewers about ecologically safe and renewable fuel.
The Real Dirt on Farmer John
Tuesday, November 1 – 7:00 p.m.
FREE; $10 suggested donation
This is a powerful story about a maverick Midwestern farmer and the story of what it truly means to be different in rural America. The film is shot over a span of 25 years of the evolving friendship between director Taggart Siegel and farmer John Peterson. Defying all odds, John gradually transforms his traditional family farm into a revolutionary farming community in which thousands of people work and flourish.