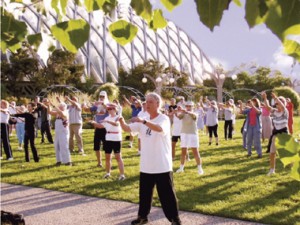 "Tai Chi is in everything, and everything is in Tai Chi..." and now Tai Chi will be back in the Gardens!  What better place to learn and practice this beautiful, joyful physical activity?  Rooted in the Traditional Chinese Medicine and the Five Elements of Health, this meditational martial art teaches skills that transfer to all aspects of healthy living.
For more than six centuries the Chinese have touted the benefits of Tai Chi for health and longevity, calling it "the supreme ultimate exercise" (the literal translation of T'ai Chi).  Scientific evidence in recent years confirms that this may well be true.  Performed with slow rhythmic motions, Tai Chi balances the frantic pace of modern life by giving us permission to slow down.
A review of 77 studies, at the Center for Integrative Medicine at the University of California, found strong evidence that Tai Chi and Qigong offer benefits for:
•     cardio-respiratory fitness
•     physical function and bone health
•     balance and fall prevention
•     mental health and quality of life
By teaching the mind to take better control of the body, we gain back a sense of control over our lives.  We feel a sense of mastery over our fate ... a deeply enjoyable experience.  Tai Chi is a fun way to relax, maximize your energy, minimize injuries and make friends.
Experience Tai Chi and its many benefits here at the Gardens every Tuesday morning from 7- 8 a.m. starting May 29.  Each session is only $8 for members and $10 for non-members.  Join us for our first session FOR FREE!  Register online or call 720-865-3580.
Guest Bloggers: Joe Brady and Jacqui Shumway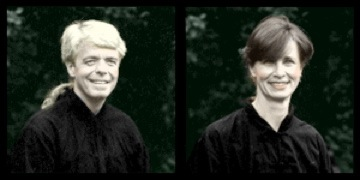 Joseph Brady is a Nationally Board certified practitioner and Diplomate in Oriental Medicine. Joe has taught Tai Chi, Qi Gong and Traditional Chinese Medicine for over thirty years at the University of Denver, The University of Colorado Health Sciences Center, Metropolitan State College of Denver and in the Colorado Community College System.
Jacqui Shumway is Western Region Director for the National Association of Health and Fitness and served on the Colorado Governor's Council for Physical Fitness for 12 years. Specializing in integrating western and eastern approaches to health care, Jacqui has over twenty years experience in developing, teaching, and coordinating clinical exercise therapy programs at the University of Colorado Health Sciences Center, St. Joseph's Hospital, Colorado School of Traditional Chinese Medicine, Metropolitan State College of Denver and Colorado Community Colleges.
Joe and Jacqui can be contacted at 303-744-7676, taichiproj@earthlink.net or visit the website TaiChiDenver.com