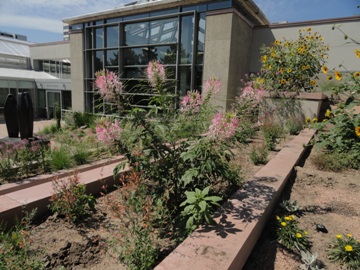 July and August take a toll on some plants: columbines and peonies can look bedraggled about now. But a few perennials and most annuals thrive with the heat. None more so than Spider flowers (Cleome) which are just coming into their stride. You can find them many places at Denver Botanic Gardens (not to mention all around town), but the high raised bed near Marnie's is an especially good spot to view them up close and personal. There is something incredibly pleasing about these sumptuous, explosive heads of flower (with literally exploding seed pods ripening sequentially!). If you look beyond the grandiose spider plant in the foreground you may notice a large sunflower with something up front...let's take a closer look!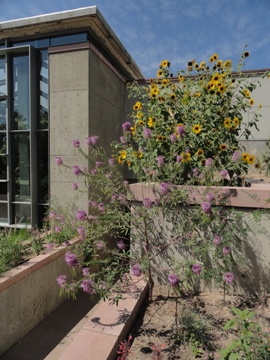 None other than Cleome serrulata, our native  annual spider plant. You can see this  blooming abundantly on median strips at the outskirts of Denver, and popping up in all sorts of native and ruderal settings. I was dazzled by spectacular deep violet purple forms on my way to DIA the other day on 54th Avenue.
Cleome serrulata 'Eleni'
Last year there was an fabulous display of an albino form in Wildflower Treasures that traces to a field trip I took twenty years ago to the San Luis valley with my baby daughter Eleni. We noticed a white flash by the car: it was a spider plant! There were only one or two pods ripening, but they had seed and from that pinch of seed we produced some fine displays at the Gardens over the years. Just realized I may have to dig into my seedbank: I haven't seen this reappear this year!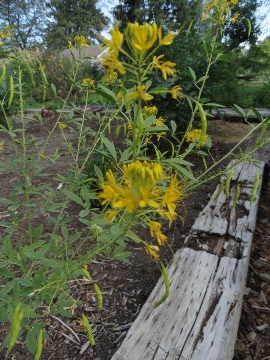 One spider plant I have yearned to grow is this vivid, chrome yellow species, Cleome lutea, that can be abundant in dry washes throughout the West. I photographed this specimen a week or so ago at Jim and Dorothy Borland's fabulous garden in West Denver. They have this self sowing and appearing here and there around their garden for years! We need to beg lots of seed from them to get this awesome native going at the Gardens!
While not as gigantic or a variable as their cultivated cousins, native Cleome have the advantage of thriving with little or no supplemental water in Colorado (with increasingly expensive water rates you may find yourself xeriscaping!) If you have a xeriscape or dry garden give this one a try. Wild seed is often gathered and sold by specialty collectors...but you may want to check out some of the wild stands: among the fresh flowers you can often  find dozens of nearly ripe capsules. Collect with care! They can explode dramatically when plucked!
Incidentally, recent botanical research has taken these out of the Caper family (Capparidaceae) and put them among the Crucifers. They do remind me a tad of Stanleya, another wonderful native plant with annual tendencies in my garden. So much for spider plants cutting capers!