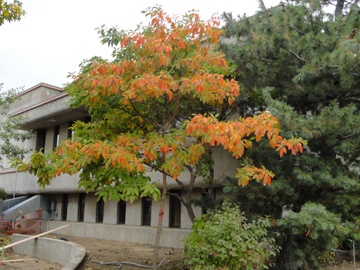 Any tree lover who's spent time in the Eastern woodlands knows Sassafras: it is an abundant tree, often in cleared fields. I know of only two specimens in Colorado, both in Denver Botanic Gardens' new Sensory Garden. I have admired them for years, sad that every autumn  they turned pale yellow instead of the brilliant reds and oranges they prefer to don in the eastern United States...until this year, that is. I was stunned to see that after twenty years, our sassafras are taking on tawny and reddish tints: hooray! Of course, the new Sensory Garden is being actively built around these trees--perhaps they thought they'd better perform or perish?
Sassafras foliage closeup
One of the many features I love about Sassafras is how the leaves can be entire, or lobed with one or two fingers (the variability is visible on the closeup above). And I love the spicy, almost Allspice scent that was once used to flavor root beer and various medicinal potions. Like many of our street trees, an ancestor closely resembling our species occurred in the West tens of millions of years ago: so in the long view, it is even perhaps a native plant! It has two oriental cousins in Western China and Taiwan. It seems to me this small tree has great potential in local gardens.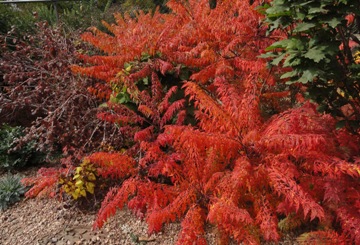 The fall color on a hundred or more kinds of trees and shrubs throughout Denver Botanic Gardens is really stunning right now, but hurry up...frost is predicted tonight, and winter will be here all too soon (and last all too long!). The growing season culminates in a few brilliant weeks of fiery color. Why not take an afternoon off and come revel in it?!