Centennial Gardens
Many members of Denver Botanic Gardens are probably not aware that the Gardens helped create one of Denver's most remarkable gardens. Deep in the heart of LODO, next to Elitch's, there was a derelict area that was full of toxic waste and refuse: Wellington Webb, mayor at the end of the last Millenium, envisioned transforming this space into a beautiful garden, and staff from Denver Botanic Gardens, along with a local landscape architecture firm (Civitas) created a formal garden. This transpired in the midst of one of our worst droughts, so it was decided to use native plants wherever possible. Now, almost 15 years later, I believe we can regard this park as a tremendous success. Ironically, a rather obscure French sport may help make this park a destination!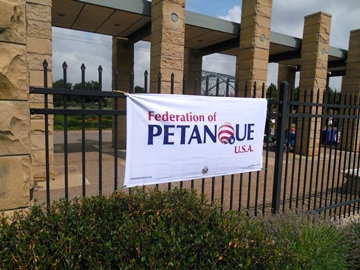 Centennial Gardens hosts Petanque tourney
I happened to drop by Centennial this past Sunday and was surprised to see quite a few people scattered around the garden. I was actually witnessing the National competition of "Petanque," the French equivalent of the slightly better known Italian Bocce ball--utilizing steel "boules" instead of wooden ones. The walkways throughout Centennial are just wide enough to fit several dozen Petanque courts, and these were neatly outlined with string and dozens of competitors were competing. A very sedate but somehow still enjoyable tourney...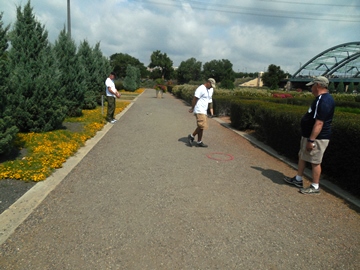 Feverish competition
Here you can see some of the players in feverish competition--with the glorious blue Junipers in rapt attention!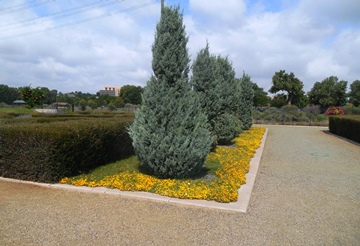 Zinnia grandiflora
Those of you who know me know that I'm not huge on sports (although Petanque is more to my taste than most) but I certainly am into flowers--and the trees, shrubs and flowers at Centennial are awesome.
I'd like to think I was the one who suggested evergreen mountain mahogany (Cercocarpus ledifolius var. intermontanus) as the predominant hedge plant--visible to the left. I am truly astounded at how magnificently this has performed. It puts privet and even boxwood to shame by contrast. The deep green color, the ease of shaping, the slow, deliberate growth, the uniformity and above all the universal good health of every single plant in this hedge (and we're talking hundreds of yards) is a statistical monstrosity of magnifitude (if such a word exists--if not, let's coin it!). What a triumph of horticultural good fortune to have conceived of such a thing--never done before (or since)--and what about using Zinnia grandiflora as a groundcover? It blooms all summer and has maintained superbly over the last decade and a half! Although the botanic gardens no longer has direct involvement, I think we can be proud of what we conceived and help create. And I for one am enjoying watching it continue to unfold.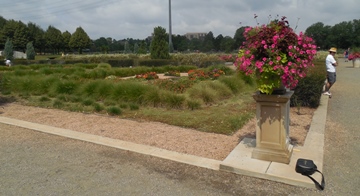 Another glimpse of Centennial
Of course, a lot of energy by Civitas and Denver Botanic Gardens was expended in the beginning, but credit has to be given to Denver Parks and Recreation. They have done a terrific job of maintaining the hedges, and the containers in Centennial are nothing short of astounding. I was excited to see that they have begun an ambitious attempt to renovate the individual planting beds, starting at the Northeast corner.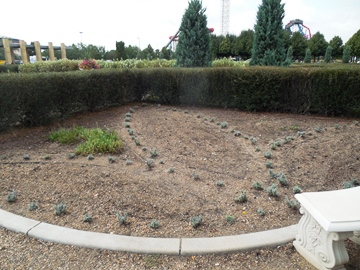 Newly redesigned garden
Here is one of the refurbished areas, planted to husky young lavenders. I imagine this Fleur-de-lys pattern will be quite different next year--probably filled with xeric annuals or perennials!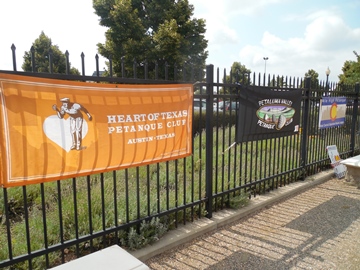 Banners all over the USA
What a treat it was to see the banners from clubs from across the USA. Although I was amused to hear quite a few of the players speaking French, I think the tournament may be as much a cultural phenomenon as it is a sports event! A great place to reconnect with fellow countrymen!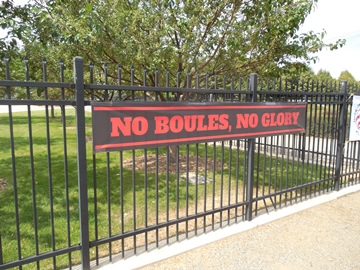 You don't need too many "boules" to play
Who would have thought a xeric demonstration garden could also be a Petanque field? There was quite a crowd gathered at Centennial for the event--I would imagine nearly a hundred with their camp followers. Add up the travel costs, the hotel and restaurant fees: the event undoubtedly contributed a not inconsiderable tally to Denver's weekend revenues. This is an example of the simple and not always acknowledged ways our parks contribute not only to our health and well being by their beauty, but to the local economy. Not something the planners anticipated by the way!
I hope the Petanque players will return and that locals use it when they can for this and other sport. I am delighted that a great experiment I helped contribute to is thriving in its new era of development, and I think Denver Botanic Gardens and our members should know and take some pride in the success as well!