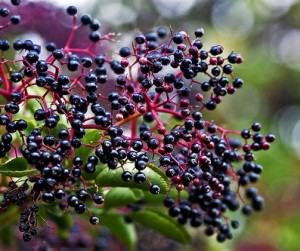 Summer offers one of my favorite pastimes, collecting and eating wild foods. Whether collected from the garden while weeding or added to a camping stew pot, local weeds can add flavor, nutrients, and variety to summer fare. Edible weeds are little storehouses of phytochemicals, antioxidants, vitamins and minerals.
Before you run off into the woods with cutlery and dinner plate in hand, you need to take a few precautions. It is imperative that you know your plant. Get a good field guide and go on an herb walk so you don't end up in the emergency room or coroner's office. Start with small portions to make sure you don't have any allergies and don't gather plants next to roads, bicycle paths, or near areas that have been treated with chemicals.
My favorite wild munchies include dandelion, lamb's quarters, violets, chickweed, and purselane. For the best taste, leaves should be collected from young plants. Most of these you have probably encountered in your garden or in any neglected land space. They can be used in place of spinach in salads, sandwiches, soups or casseroles. You might consider starting out with these common, tasty plants and as you get more adventurous, experiment with other epicurean delights including burdock root, thistle, stinging nettle and mustard.  Happy munching!
Has it always been your heart's desire to be able to walk in the woods (or alleyways!) and be able to identify wild medicinals and edibles?  Join instructor, Susan Evans, for Wild Things Workshop on Saturday, June 16th from 10 a.m. - 2:30 p.m.  Explore the fascinating world of wild edibles and medicinals. You'll begin with an herb walk, exploring local weeds and learning about their historical and contemporary uses for food, natural medicines and tonics. After breaking for a wild foods lunch you'll prepare an herbal poultice, tonic tea, antiviral tincture and soothing salve to take home.
Guest Blogger: Susan Evans
Susan Evans, the founder of Chrysalis Herbs, has been cultivating and working with herbs for more than 20 years. She managed garden centers and greenhouses in Denver before starting her own organic landscaping business, Flowerscapes, which she owned and operated for twelve years. She has worked as a master gardener and volunteer naturalist for Jefferson County, Colorado.
She has a certificate in Advanced Clinical Herbalism from the Rocky Mountain Center for Botanical Studies in Boulder with over 1,500 hours of clinical study and experience in the uses of medicinal plants. After attaining her certification in Clinical Herbalism in 1997, she founded Chrysalis Herbs. Since that time she has devoted herself to sharing her love and knowledge of herbs and gardening, helping people to reconnect with the beauty and healing aspects of the natural world.
Elderberry Image: Courtesy of me'nthedogs (Flickr)