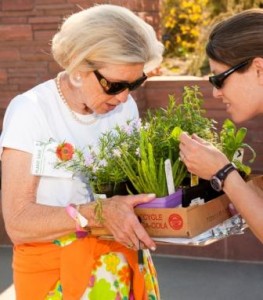 How do I know it's spring?  Because I made my reservation for the Plant Sale Preview Party at Denver Botanic Gardens.   For me, this officially marks the start of spring and the gardening season.  I always look forward to this event and have for some 30 years. Rain or shine. Snow or sleet. Never miss it.
It doesn't get much better than strolling through the Gardens in May, pushing a cart and loading it up with beautiful and unusual plants.  And did I mention the wine? Oh, the wine.  A sip of wine, pluck a plant. Pluck another plant, sip a little wine.  And then there is the food. Oh, yes. Great food.  You turn down this path, and there are savories. Turn another corner, and there is dessert. What's not to like? You don't go thirsty or hungry or plantless.
It really is a party.  Love parties. Lots of friends there, pulling their wagons which are full to the brim with hanging baskets, vegetables, herbs, annuals, and perennials. Not to mention a tree or two.  Lots of serious plant people. Lots of beginners in the garden. Lots of people with big gardens. Lots of people with only window boxes and patio pots. A fun, festive, and frolicking evening it is.  Something for everyone.
Post Written By Judy Grant, Chair Plant Sale Preview Party Committee
NOTE: Due to the popularity of this event--the Plant Sale Preview Party is SOLD OUT this year.  If you are still interested in finding wonderful plants for your home garden, the Spring Plant Sale is open to the general public with free admission and is May 11 & 12.  We hope you can join us!