Overview of Curtis' Lewisia bed looking north and west
English gardens in subtle pinks and lavenders are all well and good for England: in our bright Colorado sunlight, bright oranges, reds and purples RULE! And these shots from a local garden taken last week (Lee Curtis' private garden in Lakewood to give credit where credit is due) just blew my mind! Most Colorado gardeners have heard of bitterroot, a rather uncommon wildflower from northwest Colorado that happens to be the state flower of Montana. These are its close cousins from the Siskiyou Mountains of southern Oregon and northern California, a fantastic wildflower with truly the most amazing range of colors imaginable.
Closeup of Sunset Strain of Lewisia cotyledon
 These are likely the "Sunset Strain" --an especially vibrant selection of the species originally selected by Jack Drake in the highlands of Scotland. The "Ashwood Strain" developed by an English nursery of the same name is the current purveyor of these especially breathtaking plants. Like many wildflowers, they do best in well drained (but not too hungry) soil in a rock garden setting. As you can see, they love our Colorado climate: we have had spectacular displays of lewisias in the past in the Rock Alpine Garden although this year we have been seriously upstaged by Lee!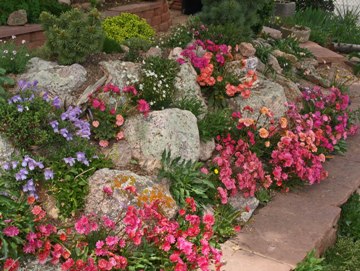 You can find these brightly colored strains of Lewisia at many local garden centers this time of year. And I know that we will have quite a few in the Rock Garden section of Denver Botanic Gardens' Annual Plant Sale this weekend. But I cannot promise you they will be waiting around all day: when people see these they GRAB!
Some of us have been a tad nervous with the long stretch of dry weather...but with the last few rainy days, there is no reason for you not to come to the sale and LOAD UP! I know that there will be significantly more plants for sale this year. In fact, I drove to California with Mike Bone (Curator of Steppe Collections, and overseer of our Production Greenhouses at York Street and Chatfield both). Mike and I brought back over 1000 spectacular plants from a wholesale nursery in California which I regard as the finest nursery of its kind...and yes, we brought back some Lewisia cotyledon!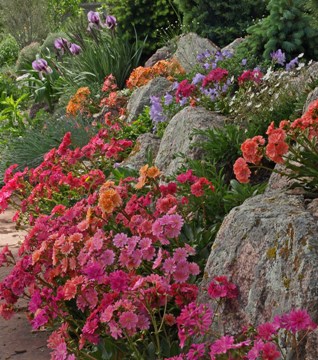 I end with this lovely shot with backlighting of these astonishing plants, with one of my favorite irises in the background: 'Dardanus' is a Regeliocyclus iris (which is to say, an hybrid between the famous dryland irises of Asia)...the contrast of cool blue or lavender with these bright hard candy colors is very welcome.
I wish to thank Loren Russell for these pictures: my camera battery went dead just as we arrived at Lee's garden. He came to the rescue with these wonderful shots--a real shot in the arm for Colorado gardeners this time of year (and candy for the eyes!). Do let me know when you have planted up a mass of lewisias that might rival Lee's! I can assure you I'm planning to add to my collection this weekend...