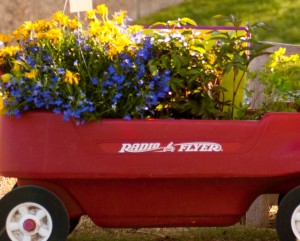 The Plant Sale Preview Party at Denver Botanic Gardens is a favorite annual event in Denver and has turned into a new tradition of mine. The love of plants and nurturing a garden starts at home. I have fond memories of my own mom helping me plant zinnia seeds in a flower bed as a child (and vivid memories of the thrill of seeing them bloom!).
For the last few years I've attended the Plant Sale Preview Party with mom where we can spend some time browsing the amazing selection of plants with other plant fanatics. It's great fun to enjoy a glass of wine while getting to shop in a relaxed, bloom-filled setting.
We usually find some really special things for her containers. Last year we discovered some great collections of succulents that looked great on her patio. This year we're after some roses especially suited to Denver's climate. It's great that there are expert horticulturists on-hand to advise if you have any questions.
The Plant Sale Preview Party is a lovely way to support Denver Botanic Gardens and celebrate Mother's Day in your own way.  
Details:
Plant Sale Preview Party: Thursday, May 10, 2012, 4-8 p.m.
Mothers Day is Sunday May 13, 2012
Purchase your tickets for the Plant Sale Preview Party and remember to B.Y.O.W. (bring your own wagon!)
By Tam O'Neill, Plant Sale Preview Party Committee Member