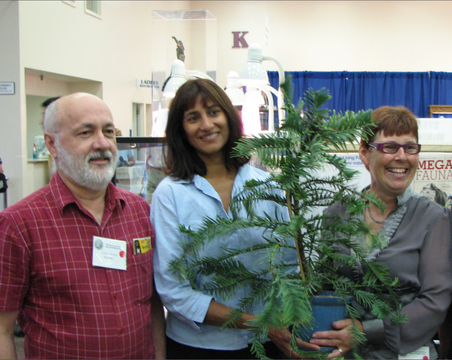 As a botanic garden we get a few calls each week from the public wanting to donate yet another house plant that has outgrown their house. As an accredited living museum, we are very selective in accepting donations. Guided by a Collections Policy and a Collections Plan, we accept only plants that fulfill our collections priorities thereby maintaining the integrity of our collections. So, a few weeks ago when I received an e-mail from Australia inquiring whether we'd be interested in acquiring a Wollemi Pine that was to be displayed as part of an exhibit at the Denver Gem & Mineral Show, I jumped at this opportunity to expand our collections. Though we already had two other specimens in our collection (one though in declining health) the opportunity to acquire another one was not to be missed.
The story of the Wollemi Pine (Wollemia nobilis) is one of botanical wonder. Belonging to the family Araucariaceae, the Wollemi Pine is a coniferous tree native to Australia. Thought to be extinct and known only from fossil records, this species was rediscovered in 1994 in the Wollemi National Park outside Sydney, Australia. With less than 100 trees remaining in the wild, this tree species is the focus of extensive conservation programs. One of the conservation strategies is the cultivation and distribution of the plants world-wide ensuring the survival of the species and using proceeds from sales of these plants for conservation research.
Thanks to Dr. Penny Williamson and Dr. Paul Carr of the University of Wollongong, Australia, Denver Botanic Gardens is now home to our third Wollemi Pine. Named affectionately as 'Wally' by Penny, I was honored to receive this plant donation last Sunday at the closing of the Denver Gem & Mineral Show. Donated by Wollemi Pine North America, this specimen was part of their exhibit at the Show, the theme of this year's show being Fossils.