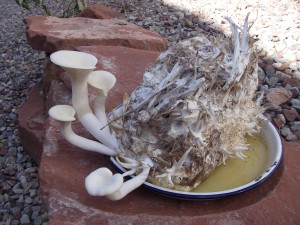 Oyster bag mushroom
As winter wanes and spring beckons we dream our vision of the coming garden season.  I've located and/or gathered some of the materials for this year's mycelium nourishment in my landscape and am advising several projects in getting ready for early inoculation of the garden with mycelium to bring extra soil and plant health to the growing area. There are many free or low cost organic materials from tree trimmers, groceries, goat and llama raisers, our yards and kitchens that we can use to help the mycelium thrive and possibly grow some great medicinal or gourmet edible mushrooms.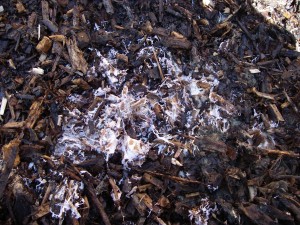 Mycelium
It is estimated that more than 80% of the plants on the planet rely on a symbiotic relationship with fungi.  The plants benefit from this relationship in many ways including enriched soil structure, availability of nutrients, increased uptake of water, and cleaning soil of pathogens
and pollutants. I'll be inoculating all new plantings (annual or perennial) - some with commercial spore mass products and some with home grown inoculum from my own gardens.
Along with growing mushrooms indoors from bags or kits, soon we can start again to experiment with natural cultivation in the garden. We can plug some logs and inoculate some prepared beds with spawn newly acquired or saved from the indoor growing.
We'll need some good moisture this year so we can collect wild local edible and medicinal varieties and introduce them to our diets and landscapes. I plan to use some low tech, natural methods to get these species and the mycelium growing.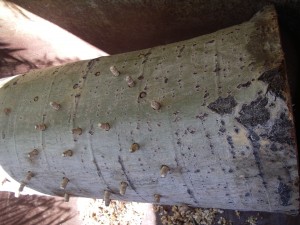 Log plugs
Please be very careful to properly identify wild mushrooms before ingesting.
Is your fungi curiosity piqued?  Join instructor, Jim Gibson, for Mushroom Propagation on Saturday, March 23 (1- 5 pm).  Learn to propagate gourmet and medicinal mushrooms in your own basement or back yard!  Register online or call 720-865-3580.XXXXXXXXXXXXXXXXXXXXXXXXXXXXX
XXXXXXXXXXXXXXXXXXXXXXXXXXXXXXXXXXXXXXXXXXXXXXXX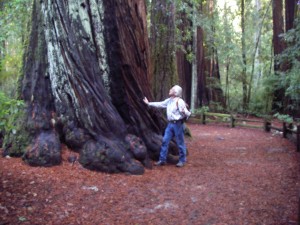 Guest Blogger: Jim Gibson
Jim Gibson, a Colorado native is a Permaculture activist and Advanced Designer, a member of the Colorado Mycological Society, the North American Mycological Association, Transition Colorado, a Life Member of Trout Unlimited and other organizations. He teaches mushroom cultivation and mycolandscaping, Permaculture design topics and soil building workshops for individuals and groups 'in situ' at locations along the Front Range and beyond. Jim has presented at Bioneers Colorado in '09, '11 and 2012. He is a graduate of the Stamets schools for Mushroom Cultivation and for Mycorestoration. Jim has studied Food Forest Gardening with Eric Toensmeier in Colorado for the past three years. Jim's goal is to further the appreciation and utilization of fungi in ecological restoration along with the production of food and medicine for the planet, for people, and for all life.
Jim can be contacted at JimGTime@yahoo.com.
.