The Gardens brings the multimedia work of Digital Nature artists Ten and Tracer, Offthesky and Pillow Garden to the fundraising art party Test Market, hosted by Yes Please More this Saturday night, Nov. 20 at the Pavilions on 16th St. Mall.
For one night, in one place, Test Market pushes collaboration to a new level with contributors including Ballet Nouveau, Denver Art Museum, Denver Botanic Gardens, Westword, Denver Handmade Alliance, MCA Denver, Foodie Call and more.
Click "Read More" for details and ticket info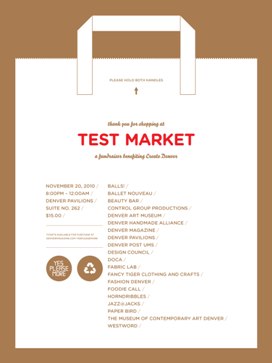 You may have caught multimedia artists Ten and Tracer, Offthesky and Pillow Garden at the Garden's annual Digital Nature exhibition, the new media event that explores the intersection of nature and digital art. These artists sample heavily from the natural world, producing dreamy sounds and organic imagery from diverse sources.
Test Market is a fundraising art party that supports the "Create Denver" initiative sponsored by Denver Office of Cultural Affair (DOCA). With a night filled with fashion shows, live music, art installations, local food, art demos, dance performances and crafts, you don't want to miss Denver's most creative party of the season!
The Gardens will feature Digital Nature artists at Test Market on Sat., Nov. 20 from 8 p.m. - 12 a.m at the Pavilions on 16th Mall.  Tickets are $15. You can purchase tickets at Denver Magazine or the night of the event at Yes Please More Pop-Up store in the second level of the Pavilions.