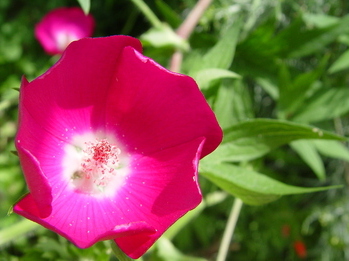 When you are buying plants for your garden this spring, consider adding a few natives to your garden.
Native plants typically provide habitat and food for more wildlife than non-natives adding to biodiversity. In an urban environment where wild places are fast disappearing every little piece of native habitat helps.
In addition native plants are well adapted to our climate and many need little water to thrive. For ideas take a walk around our native gardens (Cottonwood Border, Bristlecone Border, Ponderosa Border, The Plains Garden, Sacred Earth, Wildflower Treasures, and the Gates Montane Garden).
These are a few of my favorites: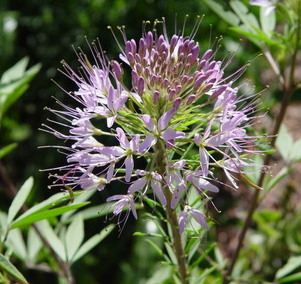 Cleome serrulata – Rocky Mountain bee plant – Easily grown from seed, as the name suggests these purple annuals are a favorite with bees. They range in height from 2 feet to over 6 feet depending on seed & conditions.
Ipomopsis aggregata – Scarlet gilia – this biennial is a favorite with hummingbirds. Also good at higher elevations. The first year they form pretty foliage rosettes and the second year they send up tall flower spikes of bright red trumpet flowers. They will seed around a little too so you always have some in the garden. Easy to start from seed – just throw the seed into the garden.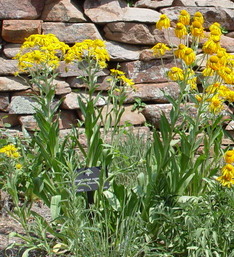 Helenium hoopesii – Orange sneezeweed – not sure why it has the common name it does, it has never made me sneeze, but this yellow daisy is one of the first things to bloom in spring and will self seed freely in your garden. It supposedly likes a little extra moisture but I had been growing it in Sacred Earth for years before I knew this & it does just fine with 3 or 4 waterings a year.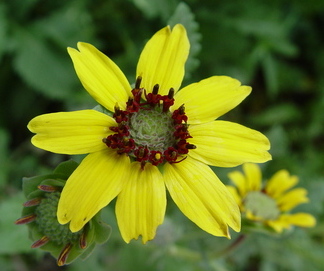 Berlandiera lyrata – Chocolate flower – If you like chocolate you need this plant. The scent is best first thing in the morning & it really does smell like chocolate. In addition it is drought tolerant & will thrive in both sun and shade. It is pretty too.
Callirhoe involucrata – Winecups or Purple poppymallow – Bright pink / purple flowers on large sprawling perennial plant. This is a Plant Select plant so should be easy to find at nurseries.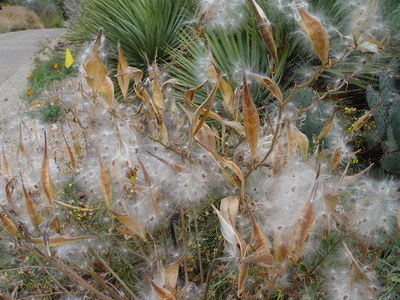 Asclepias tuberosa – Butterfly weed – Bright orange flowers in summer, stunning seed pods in the fall, these are habitat for butterflies.
Mentzelia decapetala – Ten petal blazing star – Sow seeds in a hot dry spot, somewhere you can get to easily in the evening as the flowers only open at dusk – they are huge satiny cream coloured flowers with masses of yellow stamens which the bees love.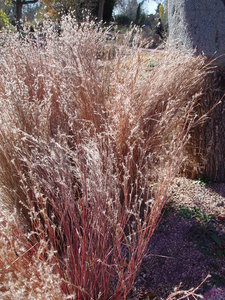 Schizachyrium scoparium – Little bluestem – This is the grass that has been bright red all winter in the Cottonwood border. It is blue-green in the summer & has seeds that glow when backlit by the sun.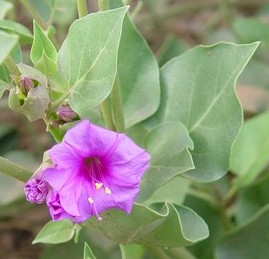 Mirabilis multiflora – Desert four o'clock - These fill in the gaps in a garden and have a really long blooming season with their bright pink flowers. Drought tolerant and easy to grow from seed.