From February 11 to April 1, the Denver Botanic Gardens School of Botanical Art & Illustration is featured in the Contemporary Traditions exhibition at the Parker Arts, Culture and Events Center (PACE), Parker's premier cultural facility. With gorgeous botanical drawings and paintings in a variety of media, juried by noted British botanical artist Ann Swan, this is an exhibit not to be missed.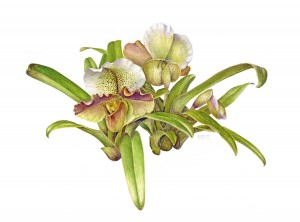 Susan Curnutte, Bulldogs, 2012, watercolor
Botanical illustration is an art form with historic roots, combining scientific exactitude with creativity and self-expression. For centuries, the tradition of beautiful and precisely rendered plant drawings has recorded the evolution of both art and science. Contemporary botanical illustration draws from this legacy as well as modern innovation, in media ranging from graphite (pencil) and colored pencil to pen and ink and watercolor.
In the Denver Botanic Gardens School of Botanical Art & Illustration, students at all levels of art experience learn the scientific and artistic techniques necessary to produce beautiful plant portraits. Classes are offered year-round and a Certificate in Botanical Illustration is awarded to those who successfully complete the curriculum and a portfolio review — an official recognition offered at only a few locations worldwide.
Make sure to catch Contemporary Traditions at PACE before April 1 to see some exquisite examples of botanical illustration. Gallery hours are Monday through Friday from 9 a.m. to 7 p.m., Saturday from 9 a.m. to 8 p.m., and Sunday from 9 a.m. to 4 p.m.
Parker Arts, Culture, and Events Center
20000 Pikes Peak Ave.
Parker, CO 80138
303-805-6800