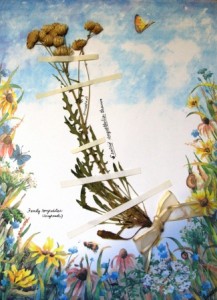 After several months of bare tree branches, I am ready for the arrival of spring and with it returning to Colorado's flower filled natural areas. The gardeners I know spend these short days and long cold nights perusing seed and plant catalogs to gear up for the next season.
In lieu of shiny catalogs, botanists, like myself, and mycologists work with specimens (mycologists study organisms in the kingdom Fungi). Specimens are individual plants or fungi that have been dried and archived into a collection. These plants and fungal specimens are collected as part of a scientific study to document species diversity and distribution.
The specimens themselves serve as a voucher or as a representative of the population for future botanical and mycological research. For botanists, anxious to get out into the field, specimens allow us to continue our work even when the plants or fungi are dormant for the season. Likely for this reason, in the 1500's, the Italian botanist and physician Luca Ghini developed the practice of preserving plants by pressing and drying them when freshly collected, and then  'mounting' them onto paper. For fungi that produce large reproductive structures like mushrooms, the reproductive structure is preserved. Initially, mushrooms were pressed and dried like plants but now they are dried without pressing so that they retain their three-dimensional structure.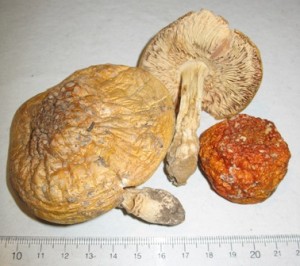 Specimens are more than just scientific value. If done well, they are also beautiful works of art. In the Victorian Era (the heyday of botany) many botanists created lovely bound books of specimens. Sometimes, specimens were accompanied by drawings or watercolors of the plant or its habitat, or different plants species were combined on one page to create a bouquet. As my fellow botanists and I at the Gardens continue our work during these cold winter days, specimens offer more than great science but also a delightful piece of art.
If you've ever been interested in learning more about (or being involved with) herbarium collections, join instructors Melissa Islam & Vera Evenson, for  two unique and exciting classes coming up at the Gardens.
The Art & Science of Fungi Herbarium Collections: Tuesday, Feb. 28 (6-8 p.m.)
The Art & Science of Plant Herbarium Collections: Tuesday, March 13 (6-8 p.m.)

Guest Blogger (& Instructor for the Plant & Fungi classes):  Melissa Islam
Melissa is the associate director of research and head curator of the Herbaria at the Gardens. She studies the evolutionary relationships of plants and helps to document plant diversity in Colorado through floristic inventories. Melissa spends much of her time in the winter working with dried plant specimens or tubes of plant DNA.

Instructor (Fungi Class): Vera Evenson
Vera Evenson (Fungi Class) – Vera is the curator of the Sam Mitchel Herbarium of Fungi and works tirelessly to identify the mushrooms in the collection. She is an expert on Colorado fungi and has written the popular book "Mushrooms of Colorado and the Southern Rocky Mountains."