Think it's too early to be doing necessary work out in your yard?  Think again. The late winter and early spring is an excellent time to be training young trees via pruning. Shade and ornamental trees are an important component of the home landscape and need regular pruning when young to fulfill their purpose in the landscape.  Home owners can perform essential pruning on their young trees that improves strength and attractiveness.
Although a licensed and certified arborist should be hired to work on large trees, a home owner working from the ground or on an appropriate pruning ladder can perform much of the early structural pruning work.
An important step before beginning structural pruning of a small tree is to gain some understanding of what its natural shape or form will be. Observing mature specimens of the species to be worked on in public landscapes is an excellent way to do that. Take time to study the form of a tree at different stages of its maturity to gain an understanding of what the eventual canopy form will be like.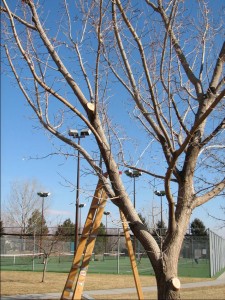 The first major step that needs to be addressed when pruning young deciduous trees is the gradual lifting of the canopy. Waiting too long can make this a much more difficult task. Removing low branches before they get too big is important.
A second very important step is to slow and direct the growth on major branches that may be competing with the main leader. Shorting a strong branch to a side lateral that is positioned outward is one way to do this.
So, while the weather may not yet have you thinking of your yard, make plans to assist your young trees here in the near future.   With a good pair of hand pruners and a hand pruning saw, most early structural pruning work can be accomplished on your own.
Don't delay in starting to train young trees. Pruning every two to three years after establishment is recommended.
Learn the skills you need to assist your yard's shade and ornamental trees in Tim Buchanan's class, Principles of Pruning, on Saturday, March 17th (9:00 a.m. – 4:00 pm).  For more information or to register online visit the Gardens' Adult Education web pages or call 720/865.3580.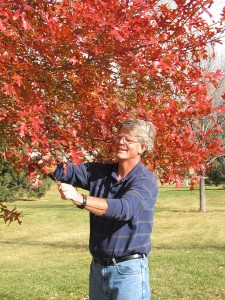 Guest Blogger: Tim Buchanan
Tim holds degrees from CSU in Landscape Horticulture and Forestry and has been a City Forester for over 35 years. He has been instructing classes at the Denver Botanic Garden on pruning and tree identification and selection for several years. Tim has also been an instructor in arboriculture at Front Range Community College. He has twice been president of the Rocky Chapter of International Society of Arboriculture and also served as president of the Front Range Urban Forestry Council. He has a special interest in native and adapted trees and as a hobby studies and grows oaks and other good trees for Colorado.