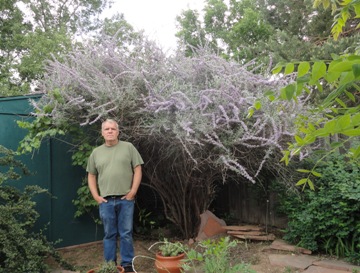 Members who are keen on native plants, especially penstemons or columbines, are likely to know this fellow standing beneath Buddleia alternifolia ssp. argentea . This is none other than the redoubtable Bob Nold, author, gardener and one of a remarkable band of people I have come to know through my work at Denver Botanic Gardens who are now among my closest associates and friends. I met Bob fairly early in my career: he had not lived that long in his house in Lakewood at the time, but had already gathered many unusual plants from places like Old Farm Nursery and obscure mail order catalogs so that when we first struck up our friendship I had much to learn from his collections.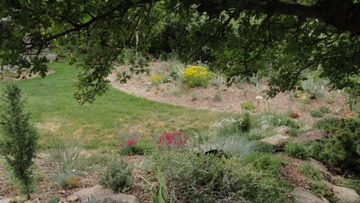 This is just a tiny glimpse of his extensive garden (a newly built rock garden without rocks--rather like Opera with out singing perhaps), filled with treasures just planted in the last year or so. This rock garden apparently entombs a fairly full run of National Geographics from the last century, demonstrating (perhaps a bit too literally) that gardening is best practiced on a foundation of sound geographic knowledge.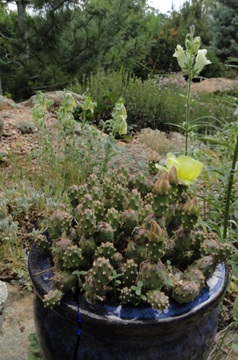 An example of one of the innumerable plant treasures you might encounter in Bob's garden is this extraordinary specimen of 'Potato', a cultivar of Opuntia fragilis (or O. debreuzii if one must) from Southern Utah which is one of my favorites. Any time I visit Bob he can have dozens, or even hundreds of treasures like this in bloom.
Not content with his own garden in his rather youthful retirement, he has been busy designing and building gardens for all his neighbors. To his south he created a spectacular walkway lined with spectacular masses of hardy ice plants (do check my article on these in the most recent American Gardener, incidentally).
Why am I suddenly inspired to write a blog about Bob Nold? Well, he is a continuing inspiration to me and to cutting edge gardeners in our region: check out his substantial volumes (magnificently illustrated by his late wife, Cindy Nelson Nold): Columbines, Penstemons and High and Dry are available for checkout at Helen Fowler Library at Denver Botanic Gardens (and at most libraries in the Denver area). The former two books are strangely out of print (but a few copies are still available...for the nonce: just click on the hyperlinks I just provided you). I predict that within a year both books will be virtually unobtainable and quite expensive. Not a bad investment I suspect.  High and Dry is solid gold ore: I can't believe I didn't review it for this blog when it came out...what was I thinking?
Apropos of what you ask?  What can be more apropos than friendship? Bob is one of the many extraordinary people I have met through my work here who has become a friend. What can be more apropos than tell you about a member of our community who has written definitive books about two of the most important groups of native Colorado plants (our state flower, for Heaven's sake!)?
Bob has grown more plants than any gardener I can think of in our region, and distilled his wisdom in innumerable articles, public writings and three shimmering books that will endure when the noise of all the nonsense that fills the airwaves and media outlets dies down.  He also demonstrates what extraordinary depth lies in our membership and network of friends here at the Gardens. If you haven't already, buy his books! And don't be surprised if his garden shows up for tour at some point (he has had dozens of tours and thousands of people visit: your time will come too!).
Thank you, Bob, for decades of support and encouragement you have provided me over the years. And let's not even talk about seeds and plants!