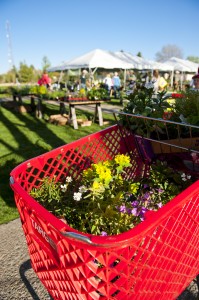 As a dedicated plantaholic, I have always loved the Denver Botanic Gardens Plant Sale -- interesting, new introductions, old garden stand-bys, Plant Select marvels, divine little alpine and succulent treasures. And it didn't take me long to discover a great way to get a jump on the Mother's Day crowd by going to the Plant Sale Preview Party.
NOW, I have learned I can up the ante by taking advantage of the new Personal Shopper Service Denver Botanic Gardens is offering this year at the May 10 event – a guaranteed cart (old Plant Sale pros will recognize the value of THAT, I'll reckon) and forty-five minutes with an experienced Gardens horticulturist. 
They can usher me right up to the newest and most exciting annuals for my containers and perennials and shrubs for my mixed garden beds, they can advise me on the right roses to plant in this challenging Colorado gardening environment, I can consult with them about a particularly problematic corner in my native garden, all while everyone else is sipping wine and munching on hors d'oeuvres.
Don't these people realize the marvelous, spectacular, once-a-year Denver Botanic Gardens Plant Sale is all about BUYING PLANTS! Good grief! Well, let them eat cake.  I'm grabbing my personal hort expert and heading into the fray.
I've made my reservation for the Preview Party (because they have very limited slots), handed over my extra $35 and am doing extra deep-knee bends so that I am READY.
So long all you desultory social types!  I am going shopping!
Reserve your spot at the Preview Party
Contact Marisa to sign up for the Personal Shopper Service 720-865-3644
Post Written By: Mary Elliman
Plant Sale Preview Party Committee