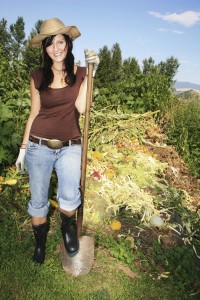 Denver Botanic Gardens is thinking of you…thinking of your budget…thinking of what's on your plate (literally)…thinking of what you might like to have on your plate (this time, both literally and figuratively)…and thinking that we might just have a nice way to enhance all of these things for you.
Starting next Tuesday night (Aug. 17), the Gardens will be hosting the 2010 Sustainable Food Film Series which will feature four critically acclaimed films that all deal with the significance of food's role in the health of communities.
Because we recognize the importance of this subject for our own community, the Gardens is offering the films at no cost to you.  But wait, it gets better and even cheaper than "free"…
Each event will be hosted by the ever-generous Chipotle who will supply your plate with some deliciously spicy appetizers to enjoy with your deliciously free film.  And, truly, while popcorn is nice, wouldn't you rather have guacamole?
Take a look below to see some additional special highlights, co-hosts and guests for each film event.
While the films are free, we do ask that you register for your ticket(s) online to ensure your place in the festivities, as space is limited.
Tuesday, Aug. 17
FRESH
Supported by Chipotle
6:30 p.m.: Eco-conscious fashion show with designs by Zavella
7:00 p.m.: Film
Tuesday, Sept. 21
FOOD FIGHT
Supported by Chipotle
Co-hosted by Slow Food Denver
7:00 p.m.: Film
Saturday, Oct. 2
Family friendly event!
WHAT'S ON YOUR PLATE
Supported by Chipotle
11:00 a.m.: Film
Tuesday, Oct. 19
THE GARDEN
Supported by Chipotle
Co-hosted by Denver Urban Gardens
7:00 p.m.: Film